Explore Alaska
---
Dining in Anchorage
Plan Your Visit
Exploring Anchorage
Short Trips
Extended Trips
Traveling to Anchorage
Going off the Grid

Full Tour Brochure

Tour Registration Form

Conference Map

Historical Average Weather
Pre-Conference Weekend Events
Extended Trips for Once-in-a-lifetime Experiences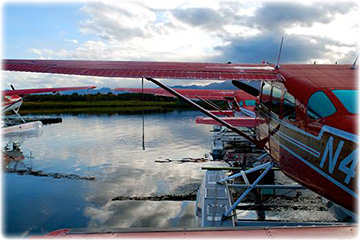 The following trips can be booked and customized through Logistics LLC. Complete the

Tour Registration Form and send it to Logistics LLC via email or fax.

Tutka Bay Lodge
Depart Anchorage International Airport via commercial airplane for a beautiful 40-minute flight to Homer. After arrival in Homer take a 25-minute water taxi south across the bay to Tutka Bay Lodge. The lodge is located along the Kachemak Bay. The Tutka Bay area offers rugged coastlines, deep fjords, dramatic mountains, quiet beaches, old growth Sitka spruce forests, and amazing tidal fluctuations. The lodge offers six private guest accommodations, a seasoned staff offering full service lodging and guide services, and an array of activities to introduce you to the Kachemak Bay marine community. You will experience award winning cuisine, lodge amenities such as complimentary massage and yoga, cooking classes, and guided adventure activities such as deep-sea fishing for salmon and halibut, freshwater fishing, ocean kayaking and hiking our unique trail system offers both high-energy adventures as well as seaside serenity.

Riversong Lodge - Fly-In Fishing
Departs from Anchorage at Lake Hood. Step aboard a floatplane for a narrated flightseeing tour to Riversong Lodge. Experience a 2-day, 1-night fishing get-away with some of the world's best fishing in Alaska's backcountry. Enjoy a spectacular 40-minute flight from Anchorage to your own exclusive hideaway. You'll be outfitted with an experienced Alaskan guide who will help you make this a once-in-a-lifetime adventure. You'll stay at one of Alaska's premier fishing lodges where exceptional service and fun times are the main focus. Enjoy a gourmet meal in the comfort of a hand built log house. After dinner just relax and fish some more!

Talkeetna Experience
Depart Anchorage for a 2 1/2 hour motorcoach transfer or step aboard the historic Alaska Railroad train for a 4 hour ride north to Talkeetna. This "Northern Exposure" like town of about 600 residents is filled with Alaska history and local charm. Talkeetna has long been the staging area for climbers of Mt. McKinley. Spend your afternoon in Talkeetna exploring the town, museums or taking an optional tour (Denali Hiking and Flightseeing, McKinley Experience, Zipline Tour, Wilderness Jetboat Adventure, Salmon Fishing, Dog Mushing). You will overnight at the Talkeetna Alaskan Lodge. The next day spend your morning exploring Talkeetna before boarding the Alaska Railroad or taking the motorcoach for return to Anchorage.