Explore Alaska
---
Dining in Anchorage
Plan Your Visit
Exploring Anchorage
Short Trips
Extended Trips
Traveling to Anchorage
Going off the Grid

Full Tour Brochure

Tour Registration Form

Conference Map

Historical Average Weather
Pre-Conference Weekend Events
Traveling to Anchorage and within Alaska
Flights
---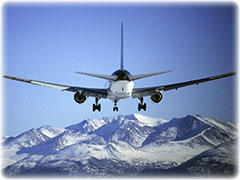 Looking at the globe (Google Earth will do, too), it is easy to see why Anchorage is a major hub for international cargo flights, with its strategic location between Asia, Europe and North America. If you come from Asia or Europe, you can reduce your travel time by many hours if you fly directly to Anchorage, rather than stopping over at another airport in the US. Some airlines offer seasonal non-stop service from overseas - please inquire and book early as capacity is limited. If you need to make a connection, Vancouver, B.C. and Seattle are the closest major airports on the West Coast, but Alaska Airlines flies to many other US cities as well.


Cruises
---

From Vancouver, B.C.: An Alaska cruise is one of the best ways to come to Anchorage. Ships depart every week and travel through the calm waters of the Inside Passage, visiting historic towns, remote bays and calving glaciers. Due to an odd law from 1886, one-way cruises are not available from the lower 48 states of the US, which leaves Vancouver, B.C. as your best option to embark or disembark. Often, you can book the one-way flight between Anchorage and Vancouver together with the cruise. Please inquire directly with one of the many cruise ship operators (Royal Caribbean, Princess, Holland America, Carnival, Celebrity, Crystal, etc.) or with an Alaska cruise expert.

From other locations: Specialty cruises exist from other parts of the world, including Japan and Norway, but this is strictly for retired MEMS millionaires.


Driving / Biking
---

The Alaska Highway passes through British Columbia and the Yukon and connects Alaska to the lower 48 states of the US. It is now paved over its entire length. The drive from Vancouver has two major branches and requires more than 2 days of non-stop driving. Travellers should expect spectacular scenery but also frequent road construction and heavy traffic with recreational vehicles and trucks. The best resource for traveling in Alaska is The Milepost, available from online book sellers or as app for iPhone and Android.

The Alaska Marine Highway is a ferry system connecting many Alaskan coastal towns that do not have other road access. Its southernmost port is Bellingham, located between Seattle and Vancouver, B.C. in Washington State. It is possible to reach Anchorage by car (or bike) with hardly any actual driving at all! However, you may want to skip traversing the open waters of the Gulf of Alaska and take the highway from Haines to Anchorage. For example, the M/V Columbia leaves Bellingham on Friday, June 12, 6:00 pm and reaches Haines on Monday, June 15, 1:45 pm ($369). The AMH website has a convenient trip planning feature that lets you create your personalized trip.


Rental Cars
---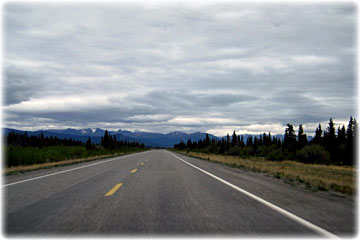 Rental Cars in Anchorage are available at the airport and at several downtown locations that offer courtesy shuttles. Rental cars from the airport are in general 10-20% more expensive than renting from a downtown location. It usually costs $15 to return a rental form a downtown location at the airport. Note that rental cars in Alaska are less abundant than in other states and rental car rates are much higher in Alaska than elsewhere; in fact, rental cars are often shipped to Alaska in spring and returned to the Lower 48 in autumn. Therefore, early booking is highly recommended.

Rates from Vancouver are 20-30% lower compared to Seattle assuming 1CA$ = 1 US$.

Travel Restrictions: Gravel Roads
Within Alaska (and the Yukon) travelling on unpaved roads is at renter's risk (no insurance coverage) or simply not allowed. Budget allows their SUVs on unpaved roads for an additional fee of $300, and the renter needs to get his/her own insurance coverage for that. The following highways/roads should therefore be avoided: Denali, Dempster, Dalton, Elliot, Stesse, Taylor, and McCarthy. These include basically all roads North of Fairbanks (Dalton, Elliot, Stesse) and the Denali Highway (Alaska Route 8) between Cantwell and Paxson. McCarthy Road (Alaska Route 10 east) is East of Anchorage between Chitina and McCarthy in the Wrangell - St. Elias National Park and Preserve. The Taylor Highway (Alaska Route 5) goes North off of the Alaska Highway 10 km East of Tok. The Dempster highway is in the Yukon, and goes North 20 km East of Dawson City.

While visitors cannot drive their own vehicles to the most interesting spots of Denali National Park, there are guided tours and shuttles for travelling to destinations farther into the park. Likewise, visitors can join a guided bus tour for travelling north of Fairbanks.

Travel Restrictions: Crossing Borders
Rental cars for driving to Anchorage are available from Seattle, WA and Vancouver, B. C. In general only round trip rentals are available, and not all companies allow taking their cars to Anchorage. Round trips to Anchorage from Seattle airport are possible with Thrifty, Alamo, Hertz, Avis, Budget, Enterprise, and National. From Vancouver airport travel to Alaska is permitted with cars from Alamo, Avis, Hertz, and National.

Some rental car companies in Anchorage do not allow their cars to leave Alaska, but that is probably not an issue for the participants of Transducers 2015.

One-Way Rentals
In general, no company offers one-way rentals from or to Anchorage. However, some rental car companies let their customers transfer cars to Anchorage early in the season. We saw a one-way rental option from Seattle with Enterprise, but this was tricky to find with the online system, and the rental car company operator was not able to book the same one-way rental.

RV Rentals
A more adventurous option is renting an RV in Western Canada and driving to Anchorage. Canadream offers RV rentals in Vancouver BC, Calgary AB, Edmonton AB, or Whitehorse YT, and allows drop-offs (for an additional fee) in a different location.