Explore Alaska
---
Dining in Anchorage
Plan Your Visit
Exploring Anchorage
Short Trips
Extended Trips
Traveling to Anchorage
Going off the Grid

Full Tour Brochure

Tour Registration Form

Conference Map

Historical Average Weather
Pre-Conference Weekend Events
Going off the Grid
National Parks
---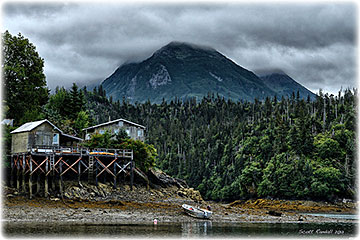 Alaska offers the opportunity to travel into vast regions that bear no trace of modern civilization. For those Transducers 2015 attendees with a strong sense of adventure, this may be a rare chance to bring back unique and unforgettable impressions. A good starting point are the national and state parks. Denali has a 90 mile shuttle bus that can transport backpackers deep into the park. Some parks offer rentals of remote cabins. Other parks may have virtually no infrastructure at all. Traveling independently is a great way to explore Alaska, The Visit Anchorage has extensive resources to plan your trip. More general information can be found in WikiTravel.


Driving
---

A look at the road map shows that there are only a few highways in Alaska, but don't underestimate the substantial distances. Homer, a major fishing town at the tip of the Kenai Peninsula and popular destination among tourists, is 4 1/2 hours, Denali National Park is also 4 1/2 hours and Fairbanks is nearly 7 hours from Anchorage. The highway north of Fairbanks is not paved and most rental cars are not allowed to drive there. A trip to Prudhoe Bay on the Arctic Ocean would require one day of continuous driving. Dents, flat tires and cracked windshields are common on gravel roads.


Flying
---

The sparseness of roads, the long distances and the rough terrain make flying a necessity rather than an extravagance for reaching remote locations. This type of travel, however, is an adventure in itself and can be a highlight of your Alaska experience. Anchorage has the largest airport for float planes, which can be booked for everything from a short flightseeing trip to an extended drop-off and pick-up at a remote lakeside cabin.


Safety
---

If you venture out on your own, please stay safe. This site cannot provide detailed advice, instead please consult the literature on backcountry travel and talk to a park ranger, professional guide or Alaska travel expert. Here are just a few thoughts:
Mobile phone coverage is generally not available outside towns and villages.
Wildlife may be on the road at any time. Moose are particularly dangerous in a collision because of their large size and high center of gravity. Driving at night is strongly discouraged (luckily we will have a lot of daylight in June).
Ocean and lake waters may be very cold even on a hot summer day.
Mosquitos do not carry any diseases but as the season progresses, they can become a major nuisance in rural and wild areas.
Respect all wildlife and keep a safe distance. Practice bear safety when hiking or camping. Statistically, moose are more dangerous than bears.
Be aware of potential wildfires.
Bring extra rations of food and water. Don't run out of gas!
Even small accidents may have grave consequences. If you are immobilized, you may not be found for a long time.
If you plan a longer trip into the wild, consider bringing an emergency satellite beacon (and confirm that it operates at high northern latitudes).
Read John Krakauer's "Into the Wild".