Explore Alaska
---
Dining in Anchorage
Plan Your Visit
Exploring Anchorage
Short Trips
Extended Trips
Traveling to Anchorage
Going off the Grid

Full Tour Brochure

Tour Registration Form

Conference Map

Historical Average Weather
Pre-Conference Weekend Events
Short Trips from Anchorage for Your Daily Adventure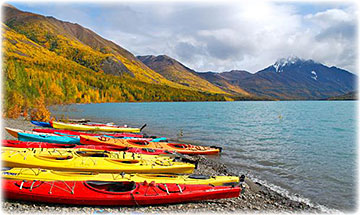 The following trips can be booked and customized through Logistics LLC. Complete the

Tour Registration Form and send it to Logistics LLC via email or fax.

Whittier - Sea Kayaking
Your adventure will begin with a short powerboat tour out to a remote cove. Once you have arrived in this secluded cove, your guide will provide instruction on paddling and safety skills. You will then begin exploring the beautiful coastal environment of Passage Canal and Prince William Sound via sea kayak. This ancient mode of travel is perhaps the most intimate way to experience the wonders of Alaska.

Seward - Kenai Fjords National Park Cruise
Embark for a magnificent day of cruising the spectacular fjords of Resurrection Bay and Kenai Fjords National Park. This wildlife and glacier cruise takes you through Resurrection Bay, around Aialik Cape; to the very face of an active tidewater glacier where you'll spend time watching glaciers calve giant splinters of blue ice into the ocean. Visit the Chriswell Islands, part of Alaska Maritime National Wildlife Refuge, where thousands of colorful seabirds nest, and a small island where over 20,000 horned and tufted puffins make their nests every summer. Look for graceful humpback whales, orcas, playful otters and hear Stellar sea lions bellow from rocky cliffs.

Girdwood - Nature Hike
In Girdwood you can explore the Historic Iditarod Trail. This moderate and exciting hike consists of a very unique hand tram crossing and walk over the Winner Creek Gorge. Trips finish at Alyeska Resort. Your naturalist guide will point out and discuss the flora and fauna of North America's northern-most temperate rainforest. You may even see a moose!

Turnagain Turnaround Tour
Spend the day enjoying the Girdwood and Portage Valleys with an experienced Alaskan guide. Traveling along the breathtaking Turnagain Arm. Watch for eagles, Dall sheep and moose. Explore the Alaska Wildlife Conservation Center, Alaska's only safari-like drive through wildlife viewing exhibits located on 160 acres. Get up close to grizzly bears, black bears, reindeer, buffalo, elk, musk ox, moose, eagles, wood bison, or a Sitka blacktail deer. Then you head to Alyeska Resort where you will have the opportunity to ride the tram to the top of Mt. Alyeska.

Alyeska Glacier - Alpine Hike
The Alyeska Glacier is nestled in Glacier Bowl of the Chugach Mountains. Overlooking breathtaking views of the Turnagain Arm and towering alpine peaks, you will be marveled when you are peering into crevasses during the Alaskan Midnight Sun. Glacier hiking guests ride the scenic Alyeska Tram and hike 40 minutes to the edge of the glacier while surrounded by the 7 Glaciers of the Girdwood Valley and outstanding views. At the Glaciers' edge you will gear up with climbing harnesses, ropes and/or crampons, overboots to travel out onto the glacier itself.

The Alaska Railway
Alaska is a big place and the Alaska Railroad is the perfect way to get around to visit the most popular, must see destinations of Denali and Spencer Glacier, Fairbanks, or any of Alaska's National Parks.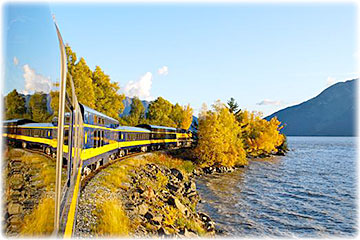 Alaska Railway Routes:
The Denali Star runs from Anchorage to Fairbanks (12 hours one-way) and back with stops in Talkeetna and Denali National Park, from which various flight and bus tours are available. Although the trip is only about 356 miles (573 km), it takes 12 hours to travel from Anchorage to Fairbanks as the tracks wind through mountains and valleys; the train's top speed is 59 miles per hour but sometimes hovers closer to 30 miles per hour.
The Coastal Classic winds its way south from Anchorage along Turnagain Arm before turning south to the Kenai Peninsula, eventually reaching Seward. This 114-mile (183 km) journey takes around four and a half hours due to some slow trackage as the line winds its way over the mountains.
The Glacier Discovery provides a short (2 hour) journey south from Anchorage to Whittier for a brief stop before reversing direction for a stop at Grandview before returning to Anchorage in the evening.
Full Day Fly In (Spin Cast) Fishing
Depart from your downtown hotel, where you will transfer to Lake Hood. Step aboard a floatplane and get ready to experience some of the world's best fishing in Alaska's backcountry. Enjoy our narrated flightseeing trip to and from your fishing destination. In Alaska's backcountry you will enjoy a guided fishing trip with an experienced Alaskan guide and all equipment provided. From fighting salmon, to landing that rainbow trout, you'll be flown to a remote lake or stream to where the action is.

Deep Sea Salmon Fishing (1/2 Day)
Depart Anchorage for a 3-hour drive to Seward on Alaska's only National Scenic Byway. Travel through Portage, which was devastated by the 1964 earthquake. Dead trees stand in silent testimony to the power of the quake, which flooded the town and dropped the surrounding land 6 to 12 feet. Once in Seward enjoy a half-day fishing adventure in Resurrection Bay just outside of this small fishing village, which is known as the silver salmon capital of Alaska. The average salmon weighs in at 10-12 pounds with many topping the 15-20 pound mark. Tour includes 5-hour guided salmon fishing charter, bait, tackle, fishing equipment, filleting and cleaning.

Glacier Dogsledding Helicopter Adventure
Depart Anchorage for a 1hr transfer traveling along the breathtaking Turnagain Arm. This drive has been voted one of the top ten Most Scenic Drives in America by Conde Nast Magazine. Once you arrive in Girdwood a float plane or helicopter is used to transport you to the alpine camp where your experienced guide will accompany you as you mush along a snow-covered glacier.

Discover McKinley & Denali National Park Flightsee
After arrival at Lake Hood, America's largest float plane airport, you will step aboard a float plane for a spectacular flight that will take you within 6 miles of Mt. McKinley's summit elevation of 20,320 feet (6,194 m). Fly over foothills and spot wildlife while on your way to the Alaska Range. You will get to view Ruth Glacier, the Great Gorge, and the massive south face of McKinley. This is where you'll look for climbers attempting their ascent. You will make a float plane landing on a lake at the base of Mt. McKinley.

Great Alaska Bear Camp
Depart Anchorage for a 3-hour scenic drive to Sterling. Once past Turnagain Arm enjoy following the Seward and Sterling Highways, which wind through a land of remarkable beauty of knife-edged ridges and alpine valleys. Once in Sterling you will enjoy a delicious lunch prepared by an excellent chef. After lunch you will take a relaxing 50 minute flight seeing tour. This tour passes active volcanos, huge glaciers, alluvial floodplains and rugged mountains before landing on the shoreline near the bear viewing camp. You will spend at least 1 ½ hours at this remote camp situated on the edge of Lake Clark at the foot of Mount Iliamna.